Insight on Hope Street Town Hall
THANK YOU to the TOWN OF NEWPORT, the LIMEN HOUSE, and MINQUAS FIRE COMPANY for Supporting this event.
We are also very grateful to our panelists Mayor Michael Spencer, Newport Police Cheif Michael Capriglione, Author Marie Allen, Advocate Liz Lucey, Dr Lynn Fahey from Brandywine Counseling, Dr. Barbieri a Substance Abuse and Mental Health Consultant, Dr. Sachin Karnick from the Gambling Coalition and Founder of Psychotherapeutic Meditation Center, Life Coach Liz Brown, Senator Anthony Delcollo, and Senator Jack Walsh for being open to having these tough discussions with the public. It truly was a wonderfully combined effort.
Marie Allen Author of Dope Help
Setting the tone for the evening, we began with Marie Allen's story. She shared her and her daughter's experience with heroin and how it just tears through a person's soul and destroys their family. Marie discussed her experience after Erin's death and we are quite impressed with her dedication to the cause. She has dedicated many years of her life educating people about the realities of heroin addiction, in hopes that she might help prevent another parent or child from going through what she has endured. Marie went on to tell us that not much has changed from 20 years ago, but she shared her hopes and dreams for the future. Part of her vision embodies the belief that there will be more places for people to get care and treatment at different stages before and during recovery. Utmost importance needs to be on implementing prevention models in our schools to help quell the tide of rising addiction rates.
THE RAINBOW of HOPE- An Economic Approach to the Opioid Crisis
Next to the podium was Hope Street Advocate Liz Lucey to share her story. Inspiring as it was beautifully tragic, the tale that Liz told was nothing short of miraculous. She then shifted her focus towards a slightly more controversial subject; safe injection sites and its effects concerning the public. From the research Liz shared, it became quite apparent that this is working. Various states and even countries are reporting success with these new, out of the box ways, to solve some of the problems that we face today. Liz continues on to explain that not only will this save lives, but shows us that there are extensive economic benefits that Ms. Lucey contends will bring "Life and Hope". The overwhelming atmosphere was that of change, renew, and hope and it was felt by all those who listened to Liz's message. Nearing the final moments of her story, as if on cue, appeared a gorgoeous rainbow and settled in behind the speaker. It was a visual representaion of all that Liz had just shared. It was for us; all of us.
Shares her story and hopeful solutions to the opioid pandemic.
Dr Michael Barbieri was invited to share his experience and insight on the current opioid epidemic. He began by explaining that Police and the Recovery Communities are critical. Dr. Barbieri explained how important it is for people with addiction to have peers to help guide and direct them to services in Delaware. He went on to describe what that would look like and how important it is to have a recovery coach or a recovery specialist to be a part of the structure in the continuum of care.
A belief that Dr. Barbieri feels deeply about is that the system needs to be set up for people to thrive not just survive and there is a need for more places that people can to go and ask for help during stressful times. The next stage is to create and have more recovery supports in the community.
Told us how helpful having the Naloxone has been for the Town of Newport Police.
Dr Lynn Fahey and Dr Sachin Karnick had much to share about people with addiction and exposed some past and present day strategies they are trying to implement to help solve the problem.
Dr Sachin elaborated on the difference between change and transformation. Explained how passion is a key trait to success in creating recovery communities.
Senator Anthony Delcollo and Senator Jack Walsh updated us on new legislation and shared some personal experience with the crisis that is occurring. They mentioned the bills for the Addiction Action Committee and the Behavioral Health Consortium. We were very impressed with their knowledge and passion for the subject.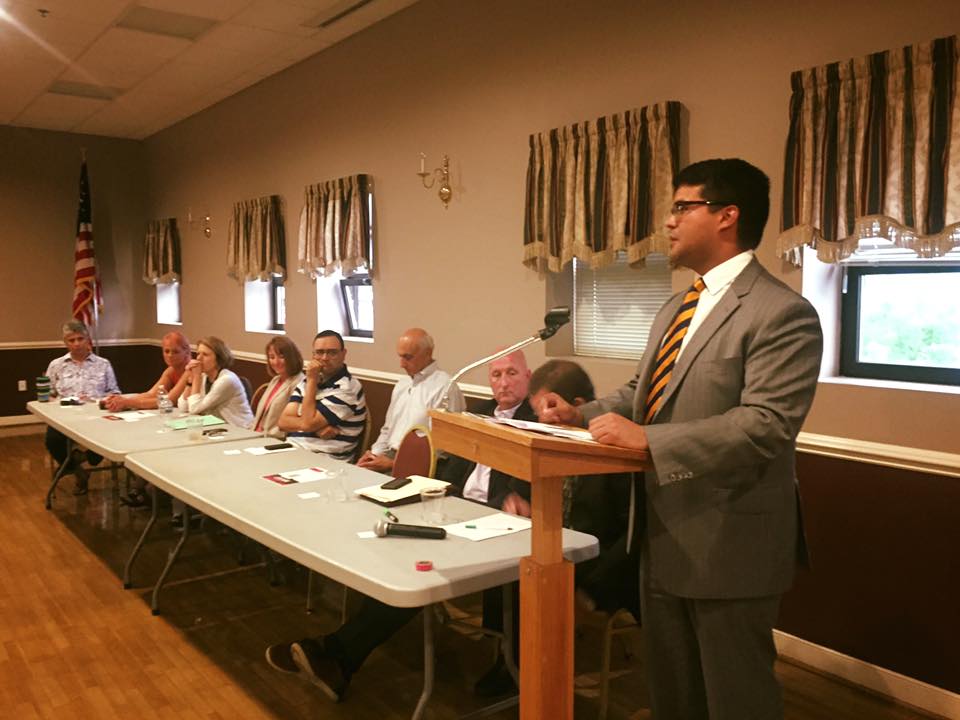 Each panelist brought a unique perspective to light at our town hall that was hosted on August 2nd at Minquas Fire Hall in Newport, Delaware was unique in the way they discussed the opioid epidemic.
WHAT WAS REVEALED
What was revealed was that we need each other to help solve this problem. We each have a set of strengths and weaknesses that if combined together could be a positive force to make great change in the state of Delaware.
Everyone has a story to tell. Listen.